Spotlight on

Success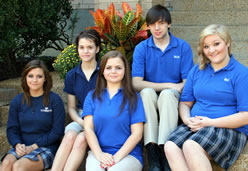 Get ready to hit the beach and the books in our Summer Success program! Idle minds lose valuable knowledge and skills, so keep your child's mind active during those lazy summer days with our engaging classes tailored to his or her specific age and grade.
Convenient time and session options assist in scheduling so your child can continue participating in summer activities
REGEN Plan – Our Re-Engagement and Graduation Encouragement program gives students hope of earning a high school diploma
Choose credit recovery, accelerated, online with teacher assistance, or traditional courses.
Small classes, one-on-one tutoring, ACT/SAT preparation, summer reading assistance, and learning strategies instruction are available
Learning style accommodations can be incorporated into classroom instruction
Let us design the perfect solutions for your child's summer success!
about
our academics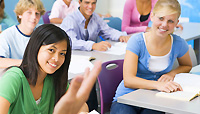 "Education" is the first word in the name of our school, and that's no mistake. Here at The Education Center School, educating our students is our top priority. The individual child with his or her specific needs is the cornerstone of our program and the center of education in our school.
We offer classes in every major subject: from language arts to the visual arts, from geometry to geography, and from social studies to computer studies. Each course schedule is arranged with the student's input and according to his or her personalized education plan. This active participation by the student in the learning process is vital to success in high school and beyond. We will guide you through course selection for classroom instruction and access to a variety of online classes. ECS is recognized for our ability to keep students in school with courses and programs that lead to promotion to the next grade or graduation.
Academic Supports
1.
Entrance Testing
Upon enrollment, all students take diagnostic tests. These tests measure a student's school ability and academic achievement, two elements of knowledge that greatly affect the learning process. The results of these tests allow us to more accurately evaluate a student's current academic performance, which is vital in developing his or her personal education plan.
2.
Re-Engagement and Graduation Encouragement (REGEN)
When students reach the later years of high school, graduation can be so close and yet so far. Not completing one or two final classes, needing higher scores on required state tests, prolonged illness, and other circumstances are all stumbling blocks that can keep students from graduating. Re-Engagement and Graduation Encouragement (REGEN) is a plan we have in place for such cases. With REGEN, seniors take only the last few classes they need to graduate, with any accommodations and flexibility necessary for work, family, counseling, or other activities.
3.
National Standardized Testing
In addition to our entrance testing, we offer national standardized tests to our students, including the PSAT, PLAN, and ASVAB. Rather than as a way to grade or rank our students, we use standardized testing to gauge student progress and explore college and career opportunities. We also administer the ACT with special accommodations for our students with documented disabilities; this testing option enables these students to perform to the best of their abilities in a familiar environment.
4.
Standardized Test Preparation
The national standardized testing we offer goes hand in hand with our standardized test preparation programs. Our teachers incorporate ACT and SAT practice into their curriculum, allowing students to connect test material to what they are learning in class. After school test prep is available for students who need more help reaching exam benchmarks.
5.
After School Assistance Program (ASAP)
Learning doesn't stop once the last school bell goes off. Our After School Assistance Program (ASAP) provides support and assistance to students needing more than classroom instruction. In ASAP, these students receive standardized test preparation, extra tutoring, and/or a review of missed classroom material. Students who need extended time for classroom tests utilize this program.